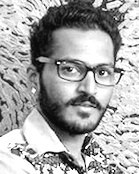 Sunny Malvatkar
1989

Sunny Malwatkar was born in 1989 in Indore.

He received his degree of B.F.A. and M.F.A. from Govt. College of Fine Art, Indore.

Sunny has participated in several group shows:
From 2009 - 2016 he has taken part in various group shows in Indore, Nagpur and Mumbai. In 2010 he participated in Chitra Sante, Mysore. In 2012 he took part in the Raza Award Show. In 2013 and 2014 he participated in the Khajuraho Dance Festival.

He attended several art camps:
In 2010 he attended art camps in New Delhi and Rajasthan. In 2011 he attended Megh Malhar, Indore. From 2012 - 2014 he attended art camps in Indore and Kottayam. In 2015 he attended painting camp in Mumbai. In 2017 he participated in The Winter Sale at Gallery 7, Kalaghoda in Mumbai.

Sunny lives and works in Indore.

View More