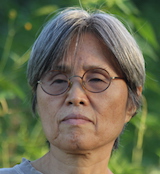 Jinsook Shinde
1952

Jinsook Shinde was born in 1952 in South Korea.

In 1976 she completed her B.F.A. from Hong IK College of Art in Seoul, South Korea. From 1980-1983 she studied printmaking at Atelier 17 under Prof. S. W. Hayter in Paris. In 2000 she worked at Glasgow Print Studio in UK.

She had several solo exhibitions:
In 1990, 1993, 1996 and 1999 she exhibited solo at Jehangir Art Gallery, Mumbai and Gallery Chemould, Mumbai. In 200 she had a solo exhibition at Sakshi Gallery, Mumbai.

Jinsook had several joint exhibitions with her artist husband, Vilas Shinde:
In 1984 she showcased at the Taj Art Gallery, Mumbai. In 1984, 1986, 1989 and 2003 she exhibited at the Jehangir Art Gallery, Mumbai. In 1990 she exhibited at Shridharani Gallery, New Delhi and in 1996 she showcased at the Prithvi Art Gallery, Mumbai.

She participated in several group exhibitions:
From 1981 and 1982 she participated in group exhibitions in Paris. In 1983 she took part in a group exhibition at Salon Des Beaux-Arts, Paris. In 1984 she participate din the International Graphics Biennale, Taiwan and took part in a group show at Bombay Art Society, Mumbai. From 1985 - 1988 she took part in group shows at Mumbai, USA, South Korea, Udaipur, New Delhi and Bangalore. In 1988 she took part in the Bhopal International Graphics Biennale. In 1990 She exhibited at the 3rd Bharat Bhavan Contemporary Indian Art Biennale, Bhopal. In 1991 she participated in the 2nd Daejeon '91 Triennale, South Korea. From 1992 – 1999 she took part in many group exhibitions in South Korea, Mumbai, Canada, New Delhi, Chennai and Hyderabad. In 1996 she participated in the Sixth Painting Biennale at Bharat Bhavan, Bhopal. In 1998 she took part in the Wilberding Collection of Contemporary Indian Art at NGMA, Mumbai. From 2000 – 2004 she showcased her works in several group shows in Mumbai, UK and New Delhi. From 1985 – 2004 she participated in several important art camps in Mumbai, Jaipur, Bhopal, Hyderabad, Udaipur and Goa.

She has received many awards:
In 1984 she received the Bombay Art Society Award, Mumbai. In 1986 she received the D. G. Nadkarni Art Critic Award. IN 1997 she was selected for Seoul Art Festival for overseas Artist. In 2000 she was selected for 10th Triennale in India.

Jinsook lives and works in Mumbai.
View More