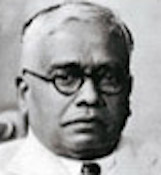 Sawlaram Lakshman Haldankar
1882-1968

Sawlaram Lakshman Haldankar was born in 1882 in Sawantwadi, Maharashtra.

The Raja of his tiny princely state gave him a scholarship to study at the Sir J.J. School of Art, Bombay. He studied under famous artists Mahadev Vishwanath Dhurandhar, Walter Robotham, Ganpatrao Kedari, A. K. Trinidade, S. P. Agaskar and Cecil Leonard Burns. In 1908 he founded the Haldankar Fine Arts' Institute in Bombay. In 1918 he founded the Art Society of India and became its first president.

He had several solo and groups exhibitions:
In 1914 he had an exhibition of his works at Royal British Society of Arts, London. From 1998 - 1999 his works were exhibited posthumously in 'The Great Indian Master Painters', which was a joint retrospective exhibition of S. L. Haldankar and his son G. S. Haldankar at the Nehru Centre, Mumbai. In 2004 he was exhibited in Manifestations II at Jehangir Art Gallery, Mumbai and Delhi Art Gallery, New Delhi. In 2005 Manifestations III, organised by Delhi Art Gallery, Nehru Center, Mumbai and Lalit Kala Akademi, New Delhi.

His works have been numerously exhibited in Mumbai, Madras, Simla and the Royal Society of British Artists, London. His works are currently in several prominent museums including the Prince of Wales Museum, Mumbai; National Gallery of Modern Art, New Delhi; National Gallery of Modern Art, Mumbai; Jaganmohan Palace Museum, Mysore; Moscow Academy of Art, Russia; Nagpur Museum, Nagpur and Delhi Art Gallery, New Delhi.

He won many awards:
The Royal Society of British Artists awarded him two commendation certificates. In 1910, 1927 and 1932 he was awarded the Governor's Prize by the British Government of Bombay Presidency. In 1964 he was felicitated by the President of India, Dr. Rajendra Prasad and in 1965 he was felicitated as a fellow of the Lalit Kala Akademi, New Delhi. An Italian encyclopedia ranks Haldankar as one of the three finest watercolorists in the world.

In 1968 he passed away in Bombay.
Sawlaram Lakshman Haldankar Works
View More