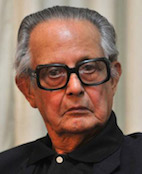 Rasipuram Krishnaswami Laxman
1921-2015

R. K. Laxman was born in 1921 in Mysore.

He graduated with a BA from the University of Mysore and went on to become one of India's most popular cartoonists and illustrators, well known for his creation 'The Common Man' and for his daily cartoon strip in the Times of India, 'You Said It', which started in 1951.



R. K. Laxman was an upstanding member of the journalist community and has won many awards including the Padma Bhushan and Padma Vibhushan from the Government of India, New Delhi.

Laxman's close peers included scientist Jayant Narlikar and fellow cartoonist and Shiv Sena Chief Bal Thackeray.



R. K. Laxman passed away at age 93 in 2015 in Pune.

Rasipuram Krishnaswami Laxman Works
View More