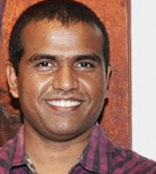 Sharanu Alloli
1982

Sharanu Alloli was born in 1982.

He completed his B.F.A from M.M.K College of Visual Art, Gulbarga.

He has participated in several shows including Kala Mahostava, Gulbarga from 2000 - 2005, Inner Wheel Club of Gulbarga North in 2004. He has participated in several group shows including Singapore Art Fair 2007 - 2008.

He has participated in many camps:
Terracotta camp in 2003, 8th All India National Camp, Kalavrt Nays Ujjain (M.P) and 7th Karnataka Kala Mela, Bangalore in 2003.

He has won many awards:
He won the Best Painting Award at Kala Mahostava in M. M. K. College Art, Gulbarga in 2000. He won the National Scholarship - Ministry of Education, New Delhi.

His work has been auctioned at 'Larasati' Singapore 2007 - 2008 and 2008 - 2009.

Sharanu lives and works in Mumbai.
View More